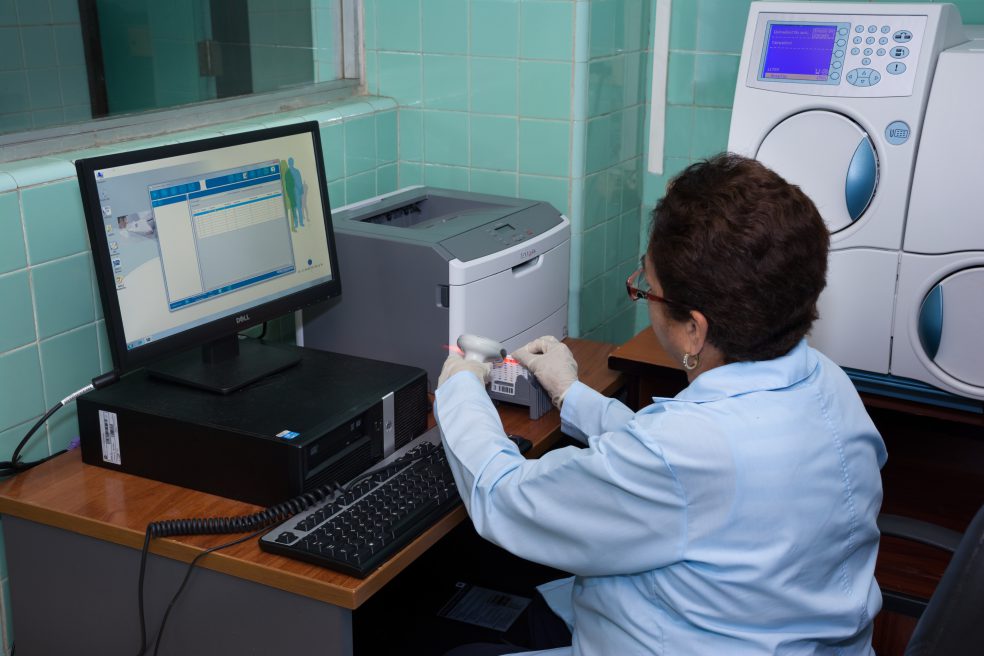 Microbiology Laboratory
The Microbiology Laboratory falls back on a specialized medical and technical team with a great human and professional sense, distinguished for its excellence scientific rigor.
It uses different methods based on the culture, and following the recommendations for insulation, identification and the subsequent preparation of antibiograms (method that measures the sensitivity of a bacterial strain suspected to be the responsible of an infection to one or several antibiotics).
To prepare the antibiogram, some computer methods under ISO standards are applied, with the classification of all possible bacterial species and the determination of antibiotic minimum inhibitory concentrations that allows choosing the suitable antibiotic for each infectious process (Vitek 2 compact Biomeriex).
This way, the more frequent infections in the community and in the hospital are studied and controlled, like:
Gastrointestinal infections (stool culture)
Urinary tract (urine culture)
Seminal duct infections (semen culture)
Upper airways infections (culture of pharyngeal, nasal, aural exudates)
Lower airways infections (sputum culture, bronchial cleaning, etc.)
Wounds infections
Ocular infections
Skin or mucous infections
Internal organs infections (sterile liquids cultures, blood cultures)
The laboratory not only identifies the causal agent of the bacteriological infectious process, but also performs diagnosis of the parasitological, mycological and virological agents that may be associated to it.
The offered exams in this Laboratory are:
Stool xams
Stool, direct and concentrated diagnostic (for intestinal parasites diagnosis like protozoa and helminths)
Cholera test
Stool test (stool culture for Salmonella, Shigella and other Enterobacteriaceae)
Gram staining (intestinal flora study or microbiota)
Other studies for Rotavirus, adenoviruses and Clostridium difficile
Urinary tract infections
Mycoplasma hominis test (ureaplasma and other mycoplasma, with antibiogram)
Chlamydia test (Chlamydia trachomatis)
Gram staining and Thayer Martin culture (to identify gonococcus)
Urine culture with antibiogram (allows the identification of bacteria that causes urinary tract infection and the proper antibiotics against them)
Semen exam (for seminal duct infections)
Vaginal and endocervical infections
Mycoplasma hominis test (vesico uterine pouch, endocervical)
Chlamydia test (endocervical)
Vaginal exudate with culture (bacteriological culture with special antibiogram)
Simple vaginal exudate (vesico uterine pouch, walls and posterior vagina for detection of vaginal Trichomonas, yeasts, bacterial vaginosis)
Upper airways infections (culture of pharyngeal, nasal, aural exudates)
Bacteriological culture with special antibiogram (bacteria that cause upper airways infection)
Mycological culture (yeasts diagnosis and filamentous fungi)
Mycoplasma test (Mycoplasma pneumonia)
Chlamydia test (Mycoplasma pneumonia)
Respiratory virus test
TASO test (antibodies in diseases caused by Streptococcus)
Lower airways infections (sputum culture, bronchoaspired fluids, etc.)
Bacteriological culture with special antibiogram (bacteria that cause lower airways infection)
Mycological culture (yeasts diagnosis and filamentous fungi)
Direct BAAR exam (diagnosis of pulmonary tuberculosis)
Culture of atypical tuberculous Mycobacterium (with antibiotics resistance test)
GeneXpert test, PCR (confirmation of tuberculous Mycobacterium)
Mycoplasma test (Mycoplasma pneumonia)
Chlamydia test (Mycoplasma pneumonia)
Respiratory virus test
TASO test (antibodies in diseases caused by Streptococcus)
Wounds infections
Bacteriological culture with special antibiogram (bacteria that cause wounds infections)
Mycological culture (yeasts diagnosis and filamentous fungi)
Skin or mucous infections
Bacteriological culture with special antibiogram (bacteria that cause skin or mucous infections)
Mycological culture (yeasts diagnosis and filamentous fungi)
Virological studies (for herpes simplex, Varicella Zoster and other)
Direct dust mite exam (diagnosis of Scabies)
Internal organs infections (sterile liquids cultures, blood cultures)
Bacteriological culture with special antibiogram (bacteria that cause sterile liquids or blood infections)
Mycological culture (yeasts diagnosis and filamentous fungi)
Virological studies (for herpes simplex, Varicella Zoster, cytomegalovirus, Epstein Bar and other)
Chagas test (Chagas disease)
TASO test (antibodies in diseases caused by Streptococcus)
Brucella test (brucellosis)
Leptospira test (Leptospirosis)
B and C Hepatitis, quantitative viral load and qualitative PCR (diagnosis of hepatitis with viral load for treatment)