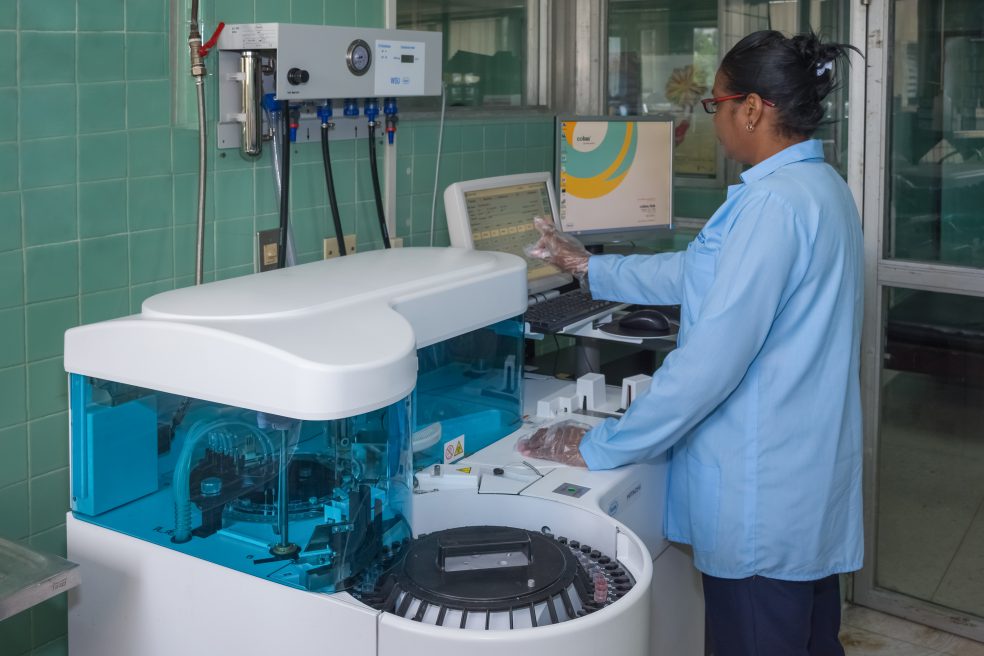 Clinic laboratory
The Clinic laboratory tests are important tools of a health care provider for the prevention, study, diagnosis, monitoring and treatment of diseases.
The Central Clinic "Cira García" falls back on medical professionals, doctors, technicians and cutting-edge technologies in the clinical Laboratory, following the requirements of all modern medical institutions.
Our clinical Laboratory is identified by its processing capacity of daily tests, their diversity and an appropriate answer time to our clients.
Clinical Laboratory Services:
Processing of multiple biological fluids, including blood and other body fluids from different sources: urine, cerebrospinal, pleural, synovial and pericardial. Each test in this laboratory is performed individually, keeping in mind the professional and ethical requirements of this action. There are three different moments on the execution:
Sample collection
Sample analyses
Delivery of the results
Studies performed by the Clinical Laboratory
Comprehensive medical check-up for men

Blood count with differential
Erythrosedimentation
Glycaemia
Creatinine
Uric acid
Studies of lipids
Cyturia
Prostate specific antigen (PSA)
Human Immunodeficiency Virus (HIV)
Serology for syphilis (Venereal Disease Research Laboratory – VDRL)
Comprehensive medical check-up for women

Blood count with differential
Erythrosedimentation
Glycaemia
Creatinine
Uric acid
Studies of lipids
Cyturia
Human Immunodeficiency Virus (HIV)
Serology for syphilis (Venereal Disease Research Laboratory – VDRL)
15-3 Marker (for breast cancer)
CA 125 Marker (for gynecological tumors, ovaries cysts, metaplasia, endometriosis, uterine fibroid)
Comprehensive medical check-up for women

Blood count with differential
Erythrosedimentation
Glycaemia
Creatinine
Uric acid
Studies of lipids
Urea
Cyturia
Serum ionogram
Pro B-type natriuretic peptide (BNP)
Homocysteine
Human Immunodeficiency Virus (HIV)
Serology for syphilis (Venereal Disease Research Laboratory – VDRL)
Medical check-up for study and monitoring of Diabetes Mellitus

Blood count with differential
Erythrosedimentation
Glycaemia
PTG con insulinemia
Creatinine
Uric acid
Studies of lipids
Cyturia
Serum ionogram
Glycosylated hemoglobin
C Peptide
Human Immunodeficiency Virus (HIV)
Serology for syphilis (Venereal Disease Research Laboratory – VDRL)
Microalbuminuria
Gynecological medical check-up

Blood count with differential
Erythrosedimentation
Glycaemia
Creatinine
Uric acid
Studies of lipids
Cyturia
Human Immunodeficiency Virus (HIV)
Serology for syphilis (Venereal Disease Research Laboratory – VDRL)
15-3 Marker (for breast cancer)
CA 125 Marker (for gynecological tumors, ovaries cysts, metaplasia, endometriosis, uterine fibroid)
Vaginal cytology
Vaginal exudate with culture
Hormonal studies, depending on medical criteria
Follicle-Stimulating Hormone (FSH), Luteinizing Hormone (LH), Progesterone, Human Chorionic Gonadotropin (HCG), Prolactin, Estrogen, BETA-HCG
Urological medical check-up

Blood count with differential
Erythrosedimentation
Glycaemia
Creatinine
Uric acid
Urea
Total proteins and albumin
C Cystatin
Studies of lipids
Cyturia
Renal function exams (Addis count, renal ultrafiltration, urinary sediment, serum ionogram and proteinuria urine 24 hours)
Human Immunodeficiency Virus (HIV)
Serology for syphilis (Venereal Disease Research Laboratory – VDRL)
Prostate specific antigen (PSA)
Testosterone
Sperm counts and sperm culture (depending on medical criteria)
Microalbuminuria
Immunological studies

Blood count with differential
Erythrosedimentation
Immunoglobulin count IgA, IgM, IgG, IgE
Circulating immune complexes
C3 Protein
C4 Protein
Antinuclear antibodies (ANA)
Anti DNA
Anti-centromere antibodies (ACA)
ENA
Rheumatoid factor
Reactive C Protein
Total proteins and albumin
Protein electrophoresis
Citrullinated peptides
ASCA
Anti-phospholipids
Anticardiolipin
Human Immunodeficiency Virus (HIV)
Serology for syphilis (Venereal Disease Research Laboratory – VDRL)
Hepatic, pancreatic and gastrointestinal function study

Blood count with differential
Erythrosedimentation
Glycaemia
Cyturia
Human Immunodeficiency Virus (HIV)
Serology for syphilis (Venereal Disease Research Laboratory – VDRL)
Bile pigment in urine
Total proteins and albumin
Protein electrophoresis
Alanine aminotransferase (ALT)
Aspartate aminotransferase (AST)
Alkaline phosphatase (FAL)
Gamma glutamyl transpeptidase (GGT)
Amylase
Lipase
Lactic dehydrogenase
Alfa fetoprotein (tumor marker)
Lipid profile
Total and direct bilirubin
CEA for gastrointestinal, pancreas and liver tumors
CA19-9 for pancreas and colon cancer
Helicobacter Pylori
Duodenal smear
Thyroid function study

Blood count with differential
Erythrosedimentation
Glycaemia
Triiodothyronine (T3)
Tetraiodothyronine (T4)
Thyroid-Stimulating Hormone (TSH)
Anti-thyroid antibodies
Anti-thyroglobulin antibodies
Hematological studies

Blood count with differential
Erythrosedimentation
Minimum and complete coagulogram
INR
Fibrinogen
Platelets count
Platelet aggregation
Reticulocytes count
Eosinophil count
Corpuscular signs
Solubility test
Hemoglobin electrophoresis
Blood type and factor
Pre-transfusion exam
Myelography
Backbone biopsy
Serum iron
Transferrin
Ferritin
Other studies, according to a diagnostic:

Creatine kinase CK
CK-MB
T-Troponin
Myoglobin
D-Dimer
Procalcitonin
Non-small-cell lung carcinoma (CYFRA)
Small-cell lung carcinoma (NSE)
Study and monitoring of osteoporosis and other bone conditions (B CROSS LAP)
Parathyroid hormone (PTH)
Cortisol
Insulin
DEAH-S (Marker for men sterility)
Arterial and venous blood gases
Cytochemistry immunological study of the cerebrospinal fluid (LCR)
Calcium
Phosphorus