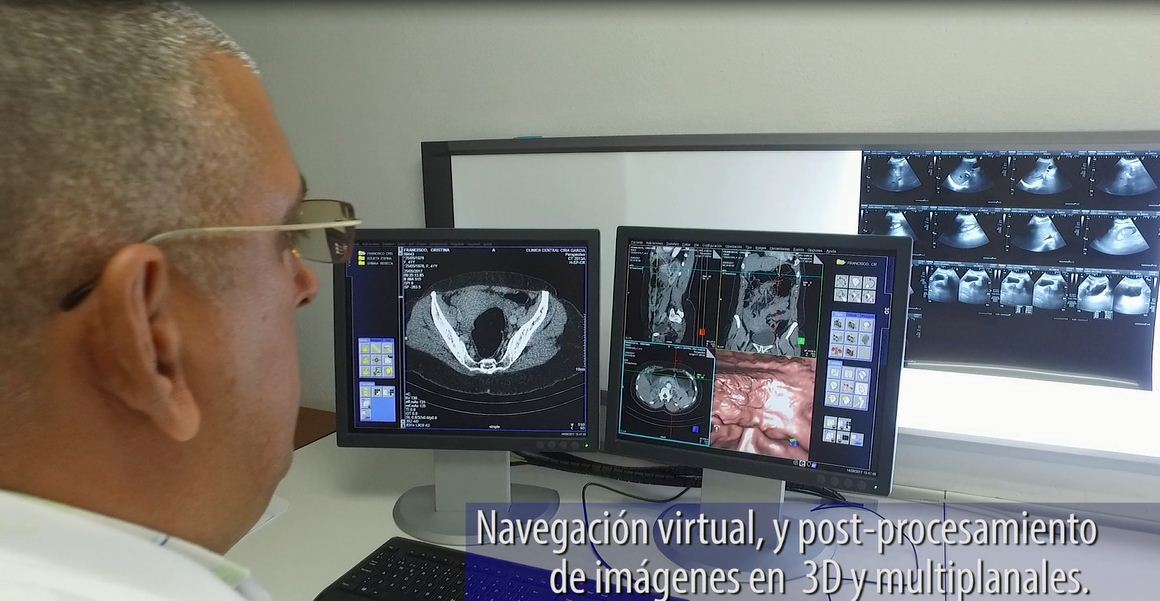 Imaging
The Imaging Department of the Central Clinic "Cira García" falls back on skilled specialists on imaging diagnosis. The expertise of these professionals, with the support of our modern technology, makes possible an exceptional service according to high world standards.
The diagnosis studies made to adult people and children as well, are accessible from any area of our institution, thanks to our local network for images transmission. Likewise, all the images are saved in our servers, to reproduce them when the patient wants.
The offered exams are:
Conventional diagnosis tests via digital radiology.
Calibrated studies of digestive and urological tracts.
B-Mode diagnostic ultrasonography, color and spectral Doppler and qualitative elastography method: abdominal, gynecological, obstetrical, prostatic, breast, neck, osteomioarticular, and vascular peripheral; also echocardiography.
Simple and calibrated multislice CAT scan of: brain, backbone, thorax, abdomen, pelvis and musculoskeletal system; with multiplanar and volumetric reconstructions; also vascular angiotomography studies of brain, neck vessels, aorta and limbs.
High camp and calibrated nuclear magnetic resonance that allows to perform imaging diagnosis of brain, neck, backbone, abdomen, pelvis, breast, prostate, skeletal muscle, vascular and full-length; also functional multimodality studies: perfusion, spectroscopy and tractography, and dynamical studies.
Interventionist radiology: percutaneous biopsies and drainages guided by ultrasound.