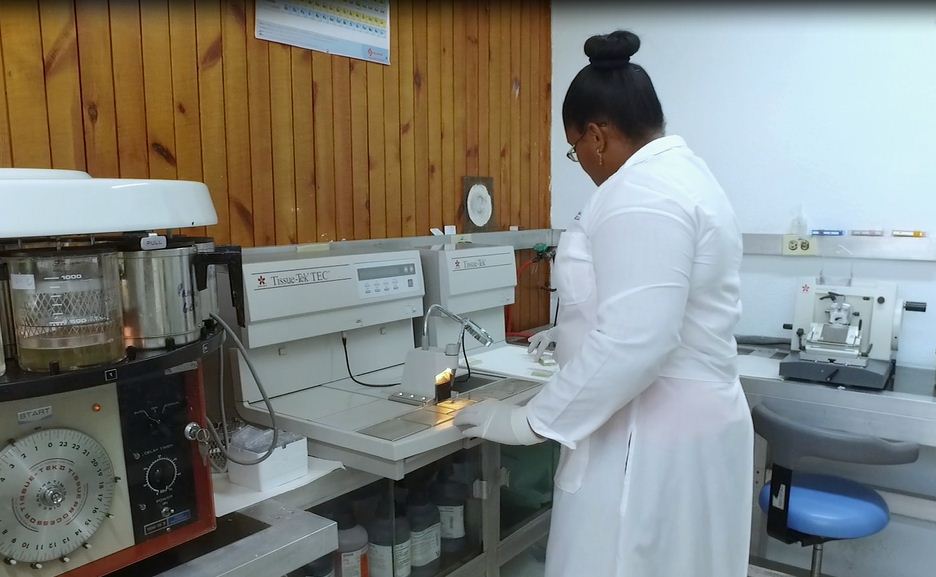 Pathological Anatomy
Pathological Anatomy is a branch of Medicine devoted to perform the diagnosis of some diseases through the analyses and study of biopsies, surgical pieces and cytologies.
In this service, all the samples of tissues or fluids taken from patients are received, for the purpose of perform the diagnosis, establish the prognosis and determinate important therapeutic data.
The Clínica Central "Cira García" has a Laboratory of Pathological Anatomy equipped with modern devices and highly skilled professionals, trained on the usage of newest diagnosis methods as of performed studies.
The Pathological Anatomy Laboratory of our institution performs an annual average of 700 cytologies and over 100 biopsies.
Our main work lines are:
Proceedings performed by our pathologists:
Fine-needle aspiration (PAAF) or fine-needle cytology aspiration (CAAF) for diagnosis of inflammatory or tumor lesions in:
Thyroid glands (ultrasound guided)
Breast
Lymph nodes
Soft parts
Studies ordered by other medical specialties, as the case may be:
Vaginal inflammation diagnosis, dysplasia and cervix cancer through cytological studies (exfoliated cytology)
Trans-operative diagnosis of tumor lesions excision or from surgical edges (freezing biopsy)
In that case, the prices are related to the medical consultation or to the sample collection proceedings.
Sample processing for diagnosis:
A better classification of tumor lesions is achieved through conventional or special methods, with the immunofluorescence and the immunohistochemistry analysis by peroxidase.
Delivery of results:
The average period of studies processing is:
Cytological studies are available in 24 hours.
Biopsies processing takes 48 hours.
The results of studies are delivered in digital format, printed or mailed.
If histological images were requested, they will be available in digital format.